High quality solar panels with great components and guaranteed production
WINAICO SOLAR PANELS
WINAICO solar panels have set them selves apart from other manufacturers in primarily two ways: Winaico has strict quality control in the assembly that ensures the end product is of the highest possible standard.  Secondly the quality of the components used in its products. 
The quality of components is monitored and managed at every stage of the production process. With this rigorous oversight of all aspects of the production process, WINAICO is confident that it delivers a 'perfectly assembled photovoltaic ( Solar panel)  made with only the best components available on the market.'
The company prides itself in the selection of its partners. All components that make up a WINAICO solar panel are manufactured by industry leaders in their own fields. Glass is manufactured by Saint Gobain, and the foils and backsheets are made by Bridgestone and DuPont. WINAICO Solar is a subsidiary of Taiwanese Win Win Precision Technology, which has its origins in the semiconductor industry, and the knowledge and experience to understand what is involved in manufacturing high-grade silicon products. The silicon photovoltaic (PV) cells within the modules themselves are highly pure and each is individually flash-tested for faults and weaknesses to guarantee high yield over the lifetime of the system–25+ years.
WINAICO Solar – Performance Guarantee
WINAICO uses only branded components of outstanding quality in its solar panels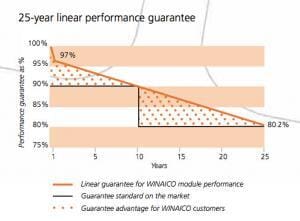 WINAICO solar panels
Images from Winaico
linear warranty
-Linear performance warranty of 25 years. This means that having two or three 'tiers' of warranty as is the industry standard (90% of nameplate panel capacity guaranteed for the first 10 years, and 80% guaranteed for the next 15 years), WINAICO's panels are guaranteed at about 94% for the first 5 years, 90% for the first 10, 87% for the first 15, etc. This more finely graduated warranty system means that system owners can have higher, more specific expectations about their panels' performance than with many other installers. (Download PDF: WINAICO solar panels Limited Warranty.)
–10 year product guarantee (excluding laminates)
–Positive power tolerance of +0/+5%: WINAICO panels are guaranteed to produce power at their nameplate capacity or greater
–Innovative frame design for maximum stability
–Cell efficiencies of up to 19%, module efficiencies of up to 16.6%
–Each module undergoes infrared and micro-optical testing to ensure the highest level of quality
–Systems using WINAICO panels guaranteed for up to 10 years
WINAICO Solar Module Product Lines
Certifications
All models of WINAICO solar panels are certified by the Clean Energy Council (CEC) of Australia, and are on the list of CEC – approved components-Claims made by WINAICO about their panel specifications have been independently verified by TUVRhineland-WINAICO Solar panels have shown excellent performance on Photon Magazine's Solar Module Yield Measurement test–regarded as the most rigorous and thorough 3rd party testing authority in the solar power industry. WINAICO WSP-235PG 235W panels came in 7th place of 130 modules; WINAICO WSP-230P6 230W modules ranked in 21st place.
About WINAICO Solar
Company Headquarters: Creglingen, Germany
Australian Headquarters: Sydney. The company also has warehouses in Sydney, Brisbane, Melbourne, and Perth.
WINAICO also has offices in Italy, the Netherlands, the UK, and the USA
Manufacturing plant location: WINAICO solar panels imported to Australia are manufactured in Taiwan
Manufacturing Capacity: 150MW
Year founded: 2008
Parent company information: Win Win Precision Technology, founded in 2003 in Taiwan. Win Win is involved in the manufacture of LED lighting products, as well as the development and production of semiconductor manufacturing technology for use in crystalline PV modules.
Award winning panels
Our panel range has won a string of International Awards. For example the LG NeON range has won the internationally highly respected Intersolar Awards in Germany for Photovoltaic Innovation three times in 2013, 2015 and 2016. No other solar panel has had such high recognition.